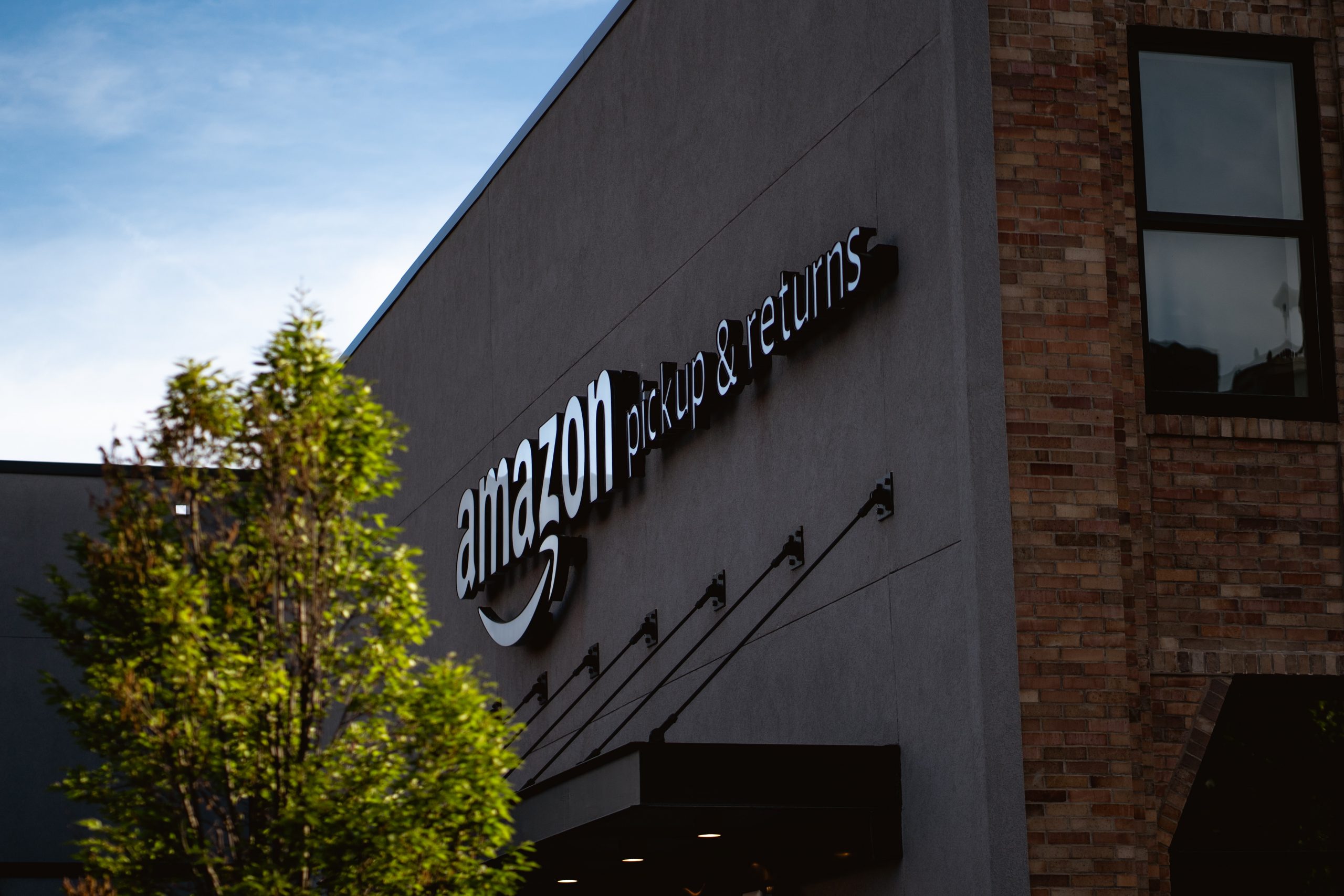 How Many People Use Amazon? [28 Stats for 2023]
Since its founding in 1994, Amazon has changed the face of shopping. The high street is no longer your only option, with this ecommerce giant leading the way for consumers and sellers alike. 
Now:
While the company took nearly ten years to pull its first profits, 2018 saw sales soaring to such a degree that it announced the future opening of two further HQs, in Crystal City and New York. 
The question is: 
How many people use Amazon?
Read on to find out.
We've got all the stats you need to further your understanding of how one company took over the internet. 
Amazing Amazon User Statistics (Editor's Picks)
More than 197 million people visit Amazon every month.
Amazon had 1.5 million customers within its first year.
The number of Amazon customers currently rests at around 300 million.
Around 30 million users access Amazon on mobile.
63% of customers have Amazon Prime.
79% of consumers choose Prime for free shipping.
Amazon sells more than 12 million products.
Amazon can make as many as 26.5 million sales per day.
More than 50% of all Amazon sales come from third-party sellers.
Understanding How Many People Use Amazon
1. Amazon enjoys more than 197 million visitors monthly.
(Big Commerce)
Amazon currently enjoys an average of nearly 200 million visitors in a month alone. That's more than the population of Russia, and it makes Amazon the world's largest ecommerce retailer, with more interest than its top three competitors put together. 
2. It had just 1.5 million visitors in its entire first year.
(Expanded Ramblings)
During their founding year, Amazon enjoyed just 1.5 million customers. While this isn't bad going for the first year in any industry, it does paint a clear picture of how significant the retailer's trajectory has been. 
3. Current figures suggest Amazon has around 300 million users.
(Expanded Ramblings)
While it's difficult to gain an accurate idea as to how many customers Amazon has due to some secrecy, the latest figures suggest somewhere around 300 million. 
4. An average of 30 million users access Amazon through mobile.
(Business Insider)
About one-tenth of users access Amazon through mobile devices, typically using the app. In fact, mobile-based shopping on platforms is predicted to account for 45% of total US ecommerce sales this year. 
5. 63% of Amazon customers have Amazon Prime+.
(Expanded Ramblings)
Amazon users statistics reveal that nearly two-thirds of customers currently hold Amazon Prime subscriptions, with millions of Amazon products eligible for Prime benefits. 
6. 79% of Amazon Prime customers state free shipping is their main incentive.
(Statista)
Amazon Prime customer statistics reveal that close to eight in ten users state free shipping as their main reason for signing up for the service. By comparison, just 11% reported a focus on Amazon Prime Video, and an even smaller 4% reported requiring Prime subscriptions for the use of Amazon Music. 
7. Prime customers spend an average of $1,000 per year.
(Reprice Express)
On average, Prime users spend around $1,000 a year on Amazon alone. In contrast, non-prime Amazon users spend just $100-$500. So, the figures give sellers a pressing incentive to offer Prime benefits. 
Amazon Customer Demographics
8. Millennials use Amazon more than baby boomers by around 2 to 1.
(Reprice Express)
Millennials are currently Amazon's leading category of consumers, and they typically outstrip baby boomers by a long way. What's more, this 50% dichotomy only looks set to increase as mobile usage figures continue to rise, making Amazon increasingly appealing to younger audiences.
9. 82% of consumers check Amazon prices before making any purchase.
(Finances Online)
To further understand current Amazon demographics, it's also worth noting that the vast majority of consumers will currently check Amazon before making a purchase. This outstrips even Google searches, which come in at just 36%, and suggests that, as well as being young, Amazon customers are generally looking for a bargain. 
10. 88% of Amazon consumers are compelled by free shipping.
(GroBidz)
We've already discussed the fact that free shipping is a pressing reason for Amazon Prime subscriptions, but a look at Amazon users on a broader scale shows that free shipping is also a major incentive to buy. This again highlights the fact that Amazon shoppers love affordable prices. 
11. Over 80% of Amazon consumers own their own homes.
(GroBidz)
That said, the fact that eight out of ten Amazon customers own their homes suggests that caution rather than low income is behind the seemingly money-saving focus of consumers on the platform. On average, Amazon active users have a household income of $100,000 a year. 
12. Amazon accounts for 49.1% of US ecommerce.
(Finances Online)
Amazon largely dominates the US eCommerce market at the moment, with just under half of all sales. This is compared to just 6.6% for eBay and 3.9% for Apple. 
13. 1 in 3 Americans have a Prime membership.
(Reprice Express)
It shouldn't come as a surprise that 95 million Americans hold Prime memberships. This means that Prime subscriptions and the increased sales figures that come with them make up around two-thirds of the platform's US-based subscriptions. 
14. Amazon accounts for 13.7% of worldwide ecommerce sales
(eMarketer)
By taking a broader outlook on Amazon sales, it's plain to see that rocketing attention doesn't stop at the US border. In fact, on a worldwide scale, Amazon already accounts for 13.7% of eCommerce sales. 
15. India is one of the fastest-growing eCommerce markets outside of the US.
(eMarketer)
India is the second-fastest-growing ecommerce market.
Interesting fact:
It's also the only nation where Amazon Prime Video outperforms more widely used platforms like Netflix.
16. Germany is the largest Amazon market outside the US.
(eMarketer)
India may be an area notable for its fast growth, but Germany still beats it to the top spot as Amazon's largest consumer outside of the US. In fact, German consumers currently account for one-third of Amazon's international sales. 
17. Amazon accounts for just 1% of ecommerce sales in China.
(eMarketer)
Still, it's not plain sailing for Amazon in every territory. Despite an increasingly large market, Amazon receives a tiny portion of the ecommerce sales that come from China right now. In large part, this is due to an alternative Chinese-based selling platform called Alibaba, which, by comparison, enjoys as much as 58.2% of China's annual ecommerce sales. 
18. Amazon Prime subscriptions are available in 17 countries.
(eMarketer)
Amazon Prime demographics, too, are expanding, with subscriptions now available in seventeen countries, including Italy, Mexico, and Spain. In fact, global Prime attention has increased to such a degree that worldwide subscriptions recently outstripped US-based Prime members by 59.5 million to 58.5 million.
How Many Products Does Amazon Sell?
19. Amazon sells more than 12 million products.
(Big Commerce)
As it stands, Amazon sells around 12 million products across a range of markets from its own platform alone, a number which looks more like 353 million with third-party products included. This is a fact that's in keeping with Amazon's mission statement to "…be Earth's most customer-centric company; to build a place where people can come to find and discover anything they might want to buy online."
20. Amazon can complete as many as 26.5 million sales per day.
(Apttus)
If you were wondering how many orders Amazon gets per day, it's around 26.5 million. Of course, exact numbers are difficult to come by considering that sales vary depending on location, events, and so on, but a reasonable estimate to work from is the fact that Amazon earns around $4,722 per second. 
21. 60% of Amazon's top sellers focus on home and kitchen.
(nChannel)
Despite a wide range of product categories, 60% of Amazon's top sellers focus primarily on home and kitchen, an area that enjoys sales as high as 64.3 million. This compares with 11.1 million in home improvement and 33.4 million in clothing, jewelry, and footwear put together. 
The Third-party Amazon Experience
22. 50% of Amazon sales come from third parties.
(Big Commerce)
Third-party sales have been on the increase for around five years now and currently account for half of Amazon's overall sales. 
23. The third-market earns Amazon as much as $9.3 billion.
(Big Commerce)
When it comes to how many people use Amazon, this increase in third-party focus is excellent news for the company, as it currently earns it around an increase of over $9 billion. Hence why the platform is continually making third-party selling an easy option.
24. Four times as many sellers reach 1 million sales on Amazon as they do on eBay.
(nChannel)
Third-party sellers can also enjoy plenty of benefits from this collaboration, especially when you consider that four times as many sellers manage to reach 1 million sales here as on alternative selling platforms like eBay. What's more, Amazon shop fronts also provide sellers with an opportunity to redirect that growing audience to their sites if they so desire.
25. 80% of third-party sellers still sell on alternative platforms.
(Big Commerce)
Despite these seemingly undeniable seller benefits, it is worth noting that eight in ten Amazon third-party sellers continue selling on alternative platforms. Most cite the steep Amazon competition as their prime reasoning here, but Amazon's continued focus on its own private-label brands also seems to be behind seller worries. 
26. 66% of Amazon's top 10,000 sellers use their FBA service.
(Finances Online)
Amazon stores also come with benefits for favorite sellers, and their FBA feedback service is currently a prime focus for two-thirds of their top third-party contributors. 
27. Over 90% of Amazon consumers won't purchase a product with less than three stars.
(nChannel)
This focus on feedback and the need third-party sellers feel to get it is hardly surprising considering that the overwhelming majority of Amazon customers won't buy a product with less than a three-star rating. If sellers are to stand any chance at succeeding, then benefits like FBA are crucial. 
28. 82% of Amazon sales go through the Buy Box.
(Data Feed Watch)
Along the same lines, most Amazon sales go through the company's Buy Box, a benefit that is only rewarded to trusted sellers with reliable prices and high levels of consumer interest. Studies also show that this figure may increase to as much as 90% where mobile sales are concerned. For sellers struggling to break into the Amazon market, then acknowledgment of this kind could be the key to success at last.
As the world's largest ecommerce contender in the world right now, there's a chance that many of these Amazon statistics are nothing new to you. Still, many consumers and sellers may find it surprising just how much impact this brand has, especially on US markets, and how many people use Amazon. 
While worldwide efforts are still fairly localized in the grand scheme of things, these sales, too, paint an impressive picture. 
Bottom line:
If sales stats and figures are anything to go by, Amazon will continue to thrive. Perhaps its main challenge moving forward is to continue meeting the needs of its broad-reaching audience. But with the help of third-party sellers, that shouldn't be a challenging goal to achieve in the slightest.
Sources: